General vectorization options
---
Vectorization options can be customized through the Vector|Options menu.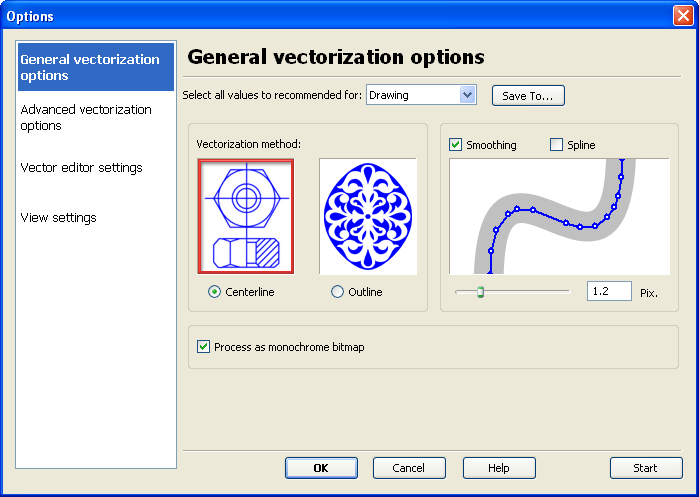 Image type
Selection of predefined parameters set. You can define and save your own set ofparametres by "Save To" button.
Vectorization method - switch between available vectorization methods
There are two basic vectorization modes:
Drawing centerlines (skeleton lines).
Drawing object outlines (boundaries).


| | | |
| --- | --- | --- |
| | | |
| Centerlines | | Outlines |
Smoothing
Smoothing or approximation of polylines, may help you significantly reduce vector data size. Just enable Smoothing and set the smoothing value (in pixels). Spline option produce polylines smoothing with Bezier curves. This option has the effect of reducing the curvature of polylines and making them look smoother.
Process as monochrome bitmap
When this option is selected all raster images interpreted as monochrome bitmaps. During vectorization all true color or palleted images will be temporaly converted to 1 bip/pixel monochrome bitmaps by some adaptive threshold. This conversion does not affected on raster image after vectorization.