Vector menu commands
---
Start Vectorizing
Starts vectorizing image. Vectorization options can be set via the Vector|Options menu.
Options
Vectorization and other options.
Set Coordinate Reference Points
Switches to the coordinate reference points mode. The coordinate reference points are set with the mouse; precise reference coordinates are entered in the dialog. More...
Coordinate Reference Info
Displays information on coordinate reference and provides selection for reference more and settings. More...
Statistics
Displays some vector statistics: total number of points, polylines, arcs, and circles.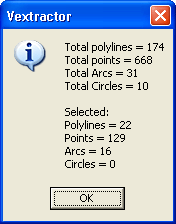 Filter Polylines
Filtering (removing or selecting) polylines by the length criteria. You may set one or two threshold values.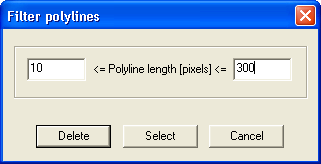 Remove All Vectors
Deletes all vector data.